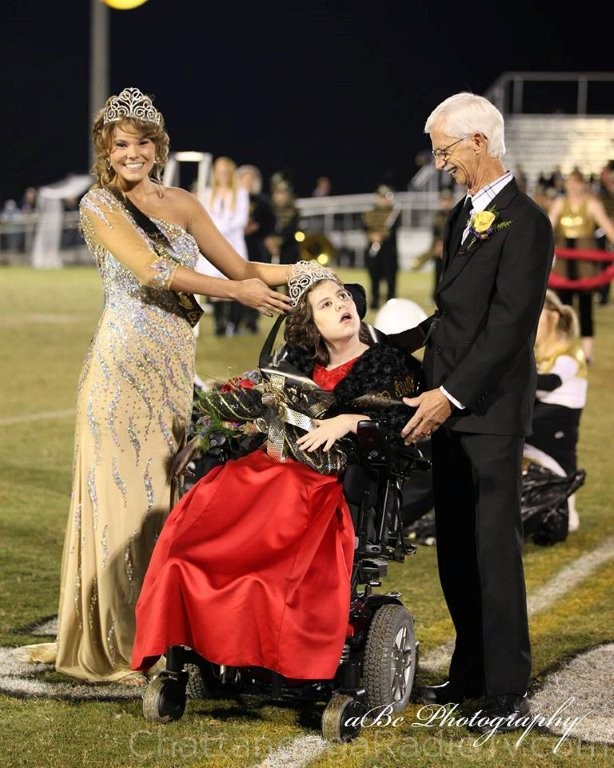 It all started with a photograph:
A dear Facebook friend (and cousin) Shana Reyes sent me this link, and said "This would be a great story for you."  Just look at this photo.  A glowing dad, Charles Mitchell watches as last year's Ider High Homecoming Queen crowns this year's winner.  Lace McMahon is the radiant young lady on the left, and Taylor Mitchell is wearing her favorite color, Georgia Bulldogs red.
The Mitchell family moved to Ider, Alabama from Georgia last year.  Taylor, then a high school junior had already overcome a lot in her brief life.  Adopted by Charles and Rita Mitchell when she was three months old, doctors said she wouldn't live to see her first birthday.  As you can see, sometimes the will to live surpasses any and all medical expertise.
She lives with cerebral palsy each day.  It causes a lack of muscle coordination.  For Taylor, just snapping a clothespin on a piece of fabric requires great patience and concentration.  Often, her movements are involuntary and random.  She is unable to walk and has difficulty holding her head up.  Swallowing isn't easy, and although she is expressive (with personality to spare) her speech can be hard for others to understand.
In brief, Taylor Brooke Mitchell is not the type of high school senior you usually see in photos like this: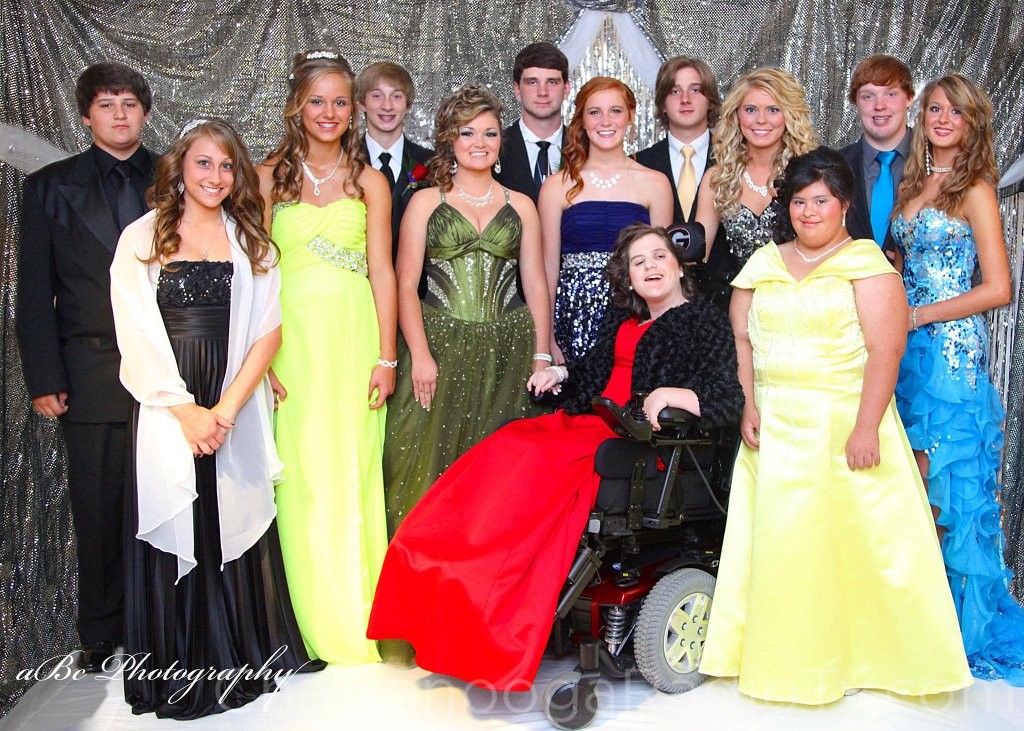 Nor is Paloma Vasquez, the young lady in yellow standing next to Taylor.  Shy and soft-spoken, Paloma is in Taylor's special-needs class with teacher Kim Keena.  The teacher was delighted to see both girls' names on the homecoming ballot, but like many, didn't expect much more than that.  Taylor's mother Rita told me, "We thought it was wonderful that the students nominated our girls.  Taylor was just excited about wearing the dress, getting her hair done, and riding on the truck."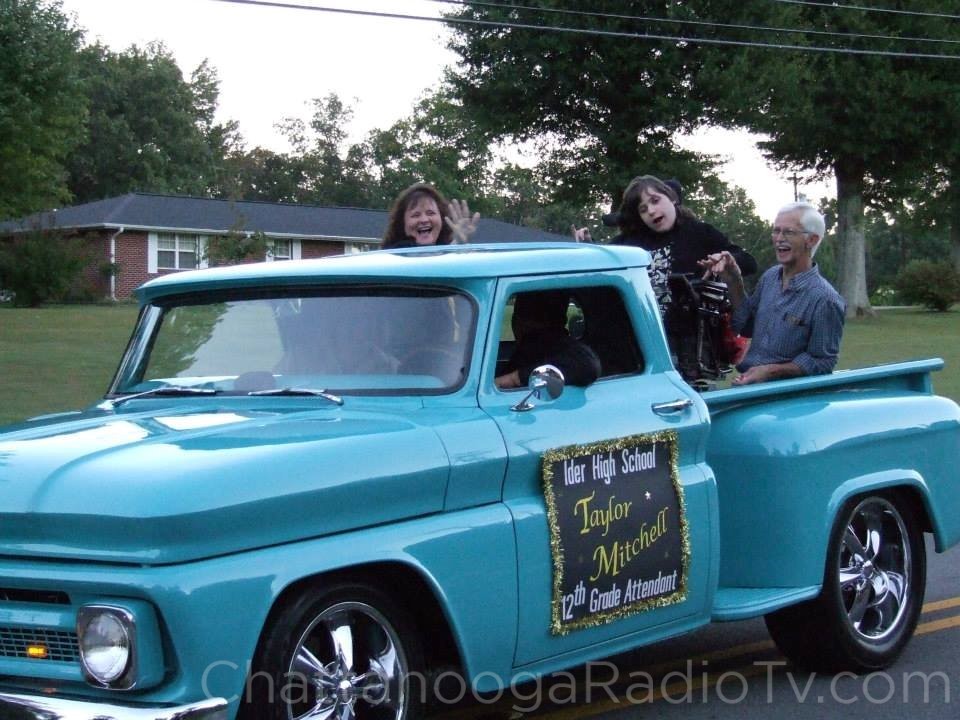 About that truck:  From the Fort Payne Times-Journal, "Taylor is in a wheelchair, so we were concerned with how she was going to ride in a convertible. Scott Jones of Rainsville stepped up, so Taylor rode in the back of his 1966 turquoise Chevy truck," Keena said. "We had to build a ramp to get her in the back of it, and the wood was donated by Johnson Lumber."  Chestnut Grove Baptist Church offered to pay for anything the girls needed and also provided jewelry. The Dream Shop in Henagar  and Affordable Fashions in Geraldine helped with the girls' dresses.
So the stage was set.  Rita Mitchell was thrilled that her daughter, the baby who wouldn't survive her first year, would be out there on the 50-yard-line with the other girls.  They would call her name, and she would be escorted by her proud dad.  The beauty treatment, the classic pick-up truck ride, and a few cheers from the fans.  That would be enough.  "We know that Taylor will never walk down the aisle to get married.  We know that she can't have children, there won't be any grandchildren for us.  So just the fact that the other students notice her, that they care enough about her to let her be on the field at homecoming…" she paused.  "That was enough for us."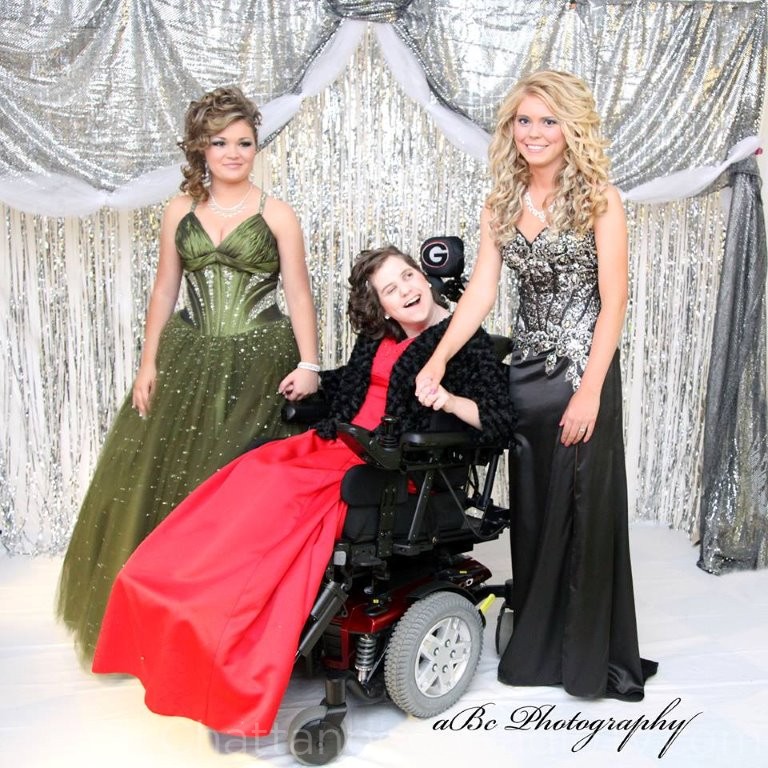 No one could predict what happened next.  I mean, sure, there are good kids out there.  Up to a point, right?  They're nice enough to put some special students' names on the ballot, but when it comes to choosing Homecoming Queen?  Isn't that always reserved for the head cheerleader, or the slim, graceful girl who wins just about everything?  Besides, those girls spend their entire lives campaigning for that honor, do they not?  They wear the right clothes, hang out with the cool crowd.   Signs are posted, friendships and loyalties are tested.  We've all watched "Saved By The Bell."  Homecoming queens look like Tiffani Amber-Thiessen, don't they?
Not this time.  When you click the link below, you can see the WRCB news story that includes the big announcement.  A TV station in Huntsville recorded the event, intending to spotlight the two special-needs girls who were happy to be in the Homecoming court.  They captured that moment for sure, but came away with much more.
When Taylor Mitchell's name was announced as the 2013 Ider Homecoming Queen, the home team bleachers erupted in cheers and tears.  It went on and on and on, like no Homecoming before it.  Brooklyn Mitchell, another senior candidate on the court, would surely have loved to hear her name called.  But instead, she was thrilled to see Taylor's reaction, as well as that of the crowd.  "I remember thinking, I'll never experience a moment like this again, with so many caring people together in one place."  Macy Bell, the school's drum major and a devoted daily helper to Taylor, couldn't help but notice the visiting fans from Cherokee County High School.  "I was looking over there at our opponents' side, and they cheered as loud and as long as we did.  I've never seen anything like it in high school."
Click this link for video
Sometime soon, you'll see some misbehaving kids on the news.  They'll get in trouble, they'll bully somebody, they'll put something inappropriate on social media.  You'll sigh, and say, "Kids today.  There's just no hope."
Oh yes, there is.  I was blessed to visit Ider High School.  I met the students who love Taylor and Paloma.  They hold their hands, they comb their hair, they cheer the routine accomplishments of everyday life.  Matching the right colors, getting from one side of a room to the other, lifting a piece of food from hand to mouth.  They don't look the other way when a special-needs student is in the hallway.  They stop, they talk, they hug.
Don't tell me that today's kids are bad.  Don't tell me they're self-absorbed.  I'll take you to Ider where, when given a chance to select a Homecoming Queen, that iconic, once-in-a-lifetime honor, they voted to make a night of memories for Taylor Mitchell:  a red dress, a shiny tiara, a ride in the back of a pick-up, as hundreds chanted her name.  Gazing at her daughter, Rita Mitchell said, "We'll never forget that night.  All I could think of was, thank you God for this moment.  And thank you to the students of Ider for what you gave to us."